Shelter Gives Formerly Abandoned Pit Bull Her Own Maternity Photo Shoot
A 2-year-old pit bull called Mama Pickles was abandoned by her previous owners and wound up at [Pits & Giggles Rescue](https://www.pitsandgigglesrescue.org/) in Charlotte, North Carolina.
Volunteers at the rescue, including photographer [Lauren Casteen Sykes](https://www.facebook.com/profile.php?id=100009237554927), loved Mama Pickles' playful disposition and thought that she had the perfect personality to participate in a maternity photo shoot. So Casteen Sykes captured some stunning pictures of the proud mother and her eight puppies.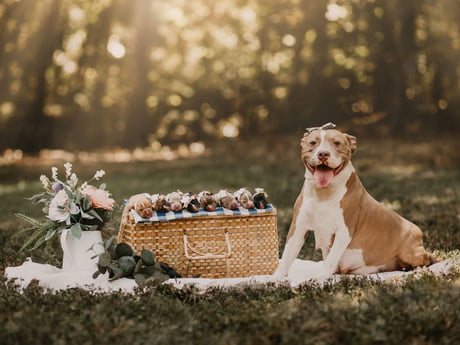 Casteen Sykes told [Insider](https://www.insider.com/before-and-after-photos-pregnant-pit-bull-puppies-2019-9#volunteers-at-the-rescue-including-photographer-lauren-casteen-sykes-immediately-recognized-mama-pickles-sunny-disposition-and-playful-air-they-decided-she-had-the-perfect-personality-to-participate-in-a-doggy-maternity-photo-shoot-2):
> It took a lot of hands and tons of treats to help her focus on channeling that inner goddess!
> She was amazing and you could really see her soaking up and loving the attention. She's a typical pitty in the sense that she will do anything for pets and praise!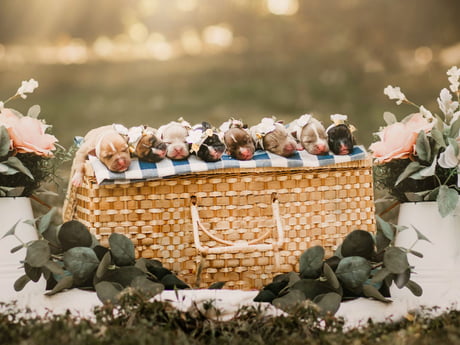 The eight puppies Mama Pickles gave birth to are all females.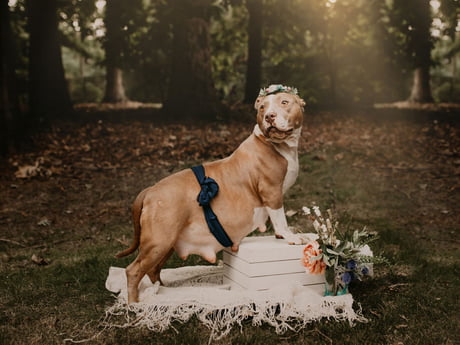 Casteen Sykes added:
> These dogs are just so incredibly special. They've gone through such a difficult journey. Having an opportunity to share that with people and help them find their homes is the most amazing feeling.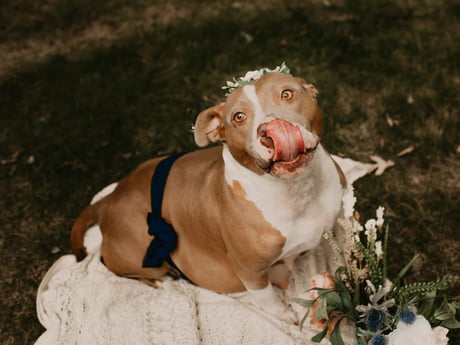 > This rescue pours so much in to each of these families. And makes absolutely certain everyone is spayed or neutered.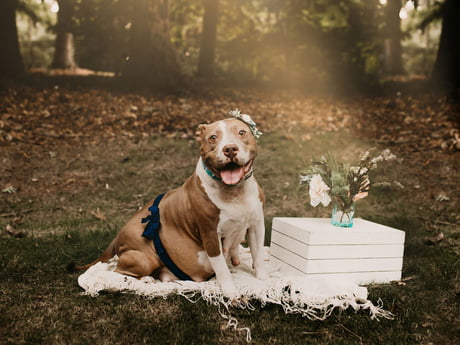 Pits & Giggles Rescue is a maternity rescue shelter that specializes in assisting pregnant dogs without a home through their delivery and first few months as mothers. As its name suggests, the organization primarily works with pit bulls and pit bull mixes. Casteen Sykes said:
> I can't say enough about this awesome organization. I'm so excited to continue capturing these incredible mama dogs and sharing them so they find their way home!