Google Celebrates 'Friends' 25th Anniversary With 7 Easter Eggs Across Search
_Friends_ is turning 25 on Sept. 22, 1994 (the series first episode premiered on that day). To celebrate, Google added a ton of Easter Eggs to search centered around the show's main characters.
To find them, simply search a character of your choice and the word 'friends.' For instance, you might search for "Ross Friends" or "Phoebe Friends." If you remember a character's full name you can search for that as well.
### 1.
On the search results page near their name, there will be an icon. For example, when you search for "**Joey Tribbiani**" you'll see this knowledge panel with a slice of pizza below his name.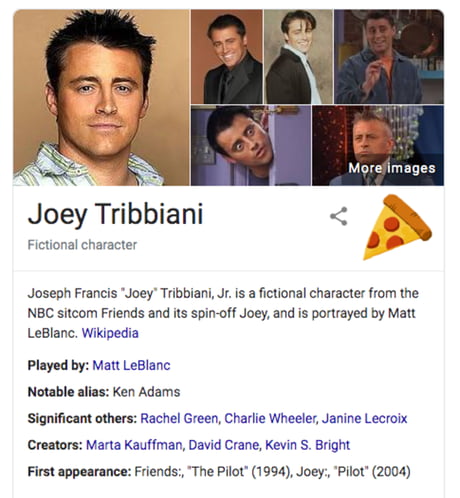 After clicking on that pizza in the info panel and soon you'll hear "Joey doesn't share food!" Then, even more food will pop up across the search results, and a pair of hands will quickly snatch everything off screen.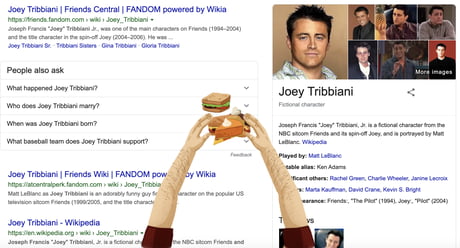 ### 2.
If you search "**Rachel Green,**" there will be an icon of Jennifer Anniston's '90s cut. If you click on it, you'll be redirected to an image search result page for "The Rachel."
### 3.
If you search "**Chandler Bing**" and click on his beloved recliner, you will get a visit from Yasmine and Dick. Clicking on the recliner again will make them disappear.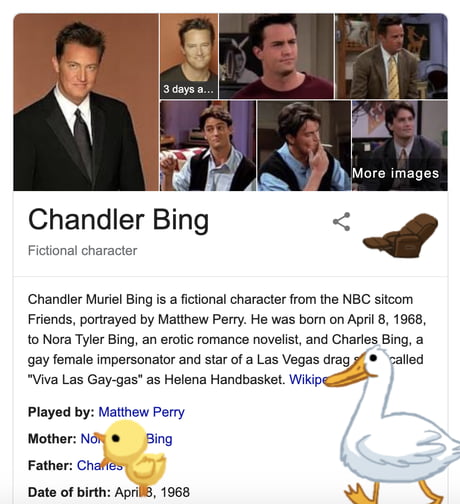 ### 4.
For **Phoebe Buffay**, if you click on the guitar icon in the info panel, there will be a rendition of the "Smelly Cat" song (with visuals).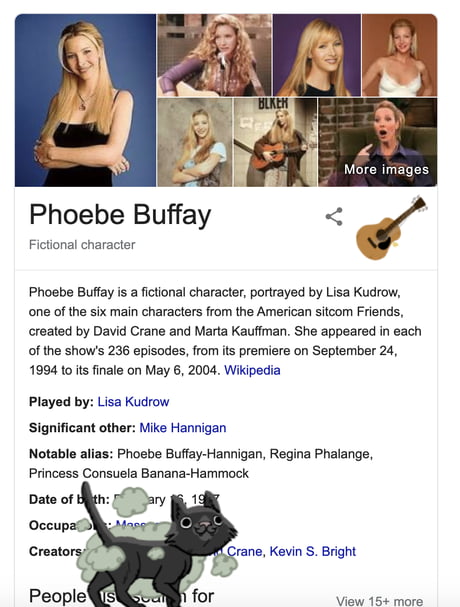 ### 5.
As for "**Ross Geller**." after clicking on the couch icon, you will hear Ross shout "Pivot!" as the entire screen rotates.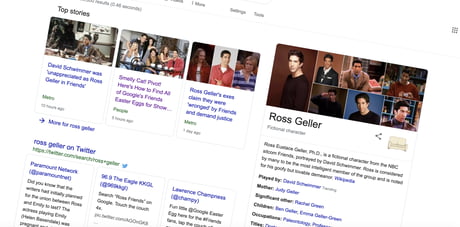 There will be another rotation if you keep clicking. However, after clicking it 4 times, there will be no more pivoting and the couch will break. You will then have to refresh the page to get a new couch.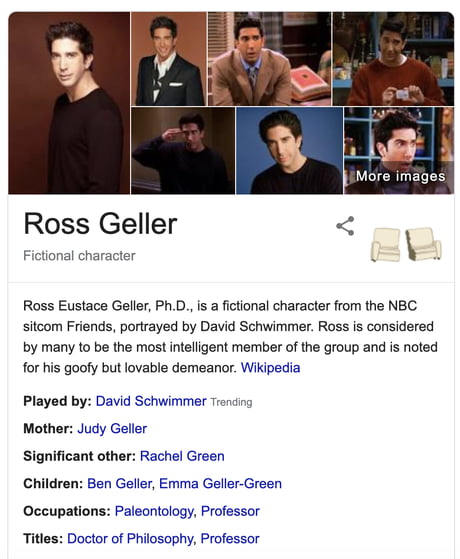 ### 6.
For **Monica Geller** (aka The Queen of Cleaning), after clicking on the soap bucket, you will see her search result gets a luxurious, refreshing, sparkling scrub down.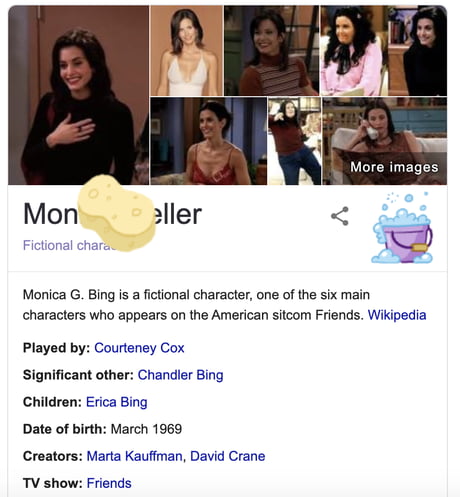 ### 7.
Lastly, if you search "**Friends glossary,**" it will bring up a show-specific catchphrase with memories from the show.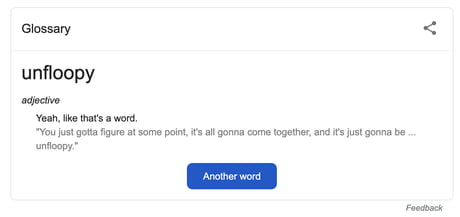 You can see more catchphrase after clicking "another word".